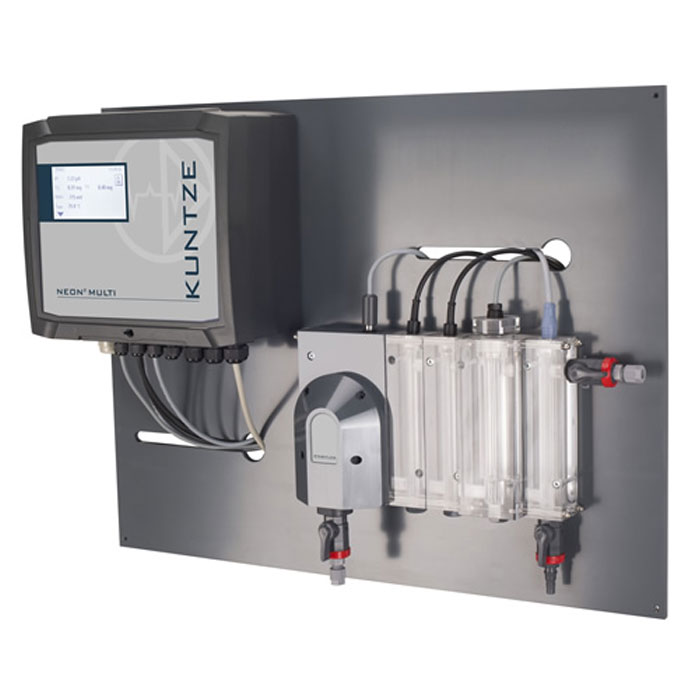 Multi channel water monitoring system
Controlled and reliable measurements are driven by Kuntze Krypton® systems. The measuring system includes all customer needs for disinfectant measurement: instrument, sensors, assembly and cables.
The Krypton® Multi is a measuring system for disinfectant, pH and temperature. Additionally, ORP and 5th measurement can be added (Total chlorine or conductivity). Kuntze Krypton® Multi are delivered fully assembled and ready to use.
Krypton Multi's® water measurement process can be controlled at any time, from any place, on any device via Kuntze's Cloud Connect® service. All Kuntze products are Made in Germany.
Applications




Parameter
Disinfectants
Free chlorine, chlorine dioxide: 0..1000µg/l, 0.. 5.00 / 10.00 / 20.00 mg/l
Ozone: 0..1000µg/l, 0.. 5.00 / 10.00 mg/l
Hydrogen peroxide: 0.. 30.00 mg/l
Temperature
0.. 50.0 °C (32.. 122 °F)
pH
0-14.00 pH
Redox potential (optional)
-1500.. +1500 mV
5th measuring input (optional)
Total Chlorine: 0.. 10.00 mg/l or Conductivity: 0 - 100,0 mS/cm
Digital Inputs
Flow control, external controller stop, 2x level control, activation 2nd or 3rd control parameter set