Hydrostatic (Borehole) Products
We offer a range of Hydrostatic (Borehole) Products.
This range includes;
---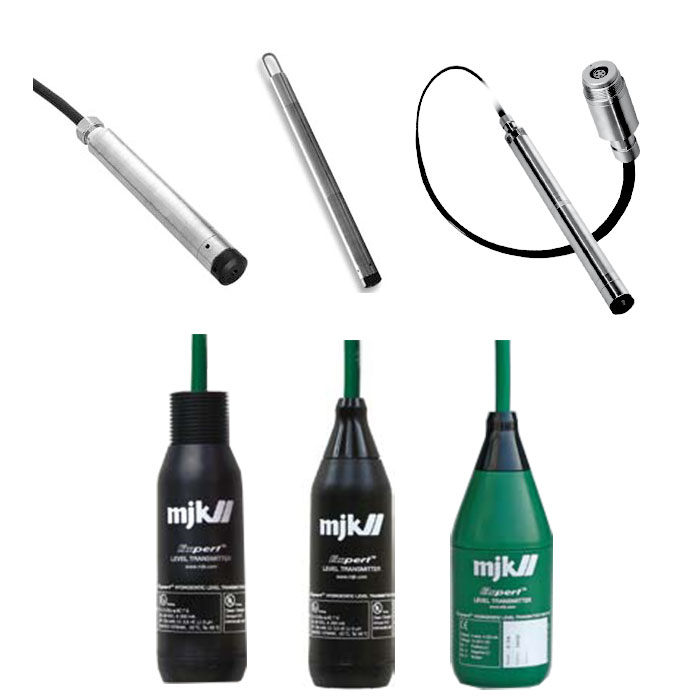 MJK Expert™ 700 / 800 / 900 / 7070 / 7060

MJK Expert™ 1400 / 3400
Submersible Hydrostatic Level Transmitters
MJK Expert™ hydrostatic level transmitters are designed for level measurement by submerging the transmitter in open channels, drains and tanks.
Expert™ hydrostatic level transmitters have a modern design with high functionality and the use of modern plastic and steel materials. MJK level transmitters are used in sewage plants, pump stations, waterworks and and in process tanks in the industry.
For more than 20 years MJK level transmitters have had a reputation for their high accuracy and stability, the ability to withstand rough industrial environments, their sturdiness and functional design and wide measuring ranges. The Expert™ Level Transmitter Model 1400 and 3400 are approved according to UL and Atex for applications in hazardous areas.
Features
Sturdy design with housing from PPS, polypropylene or stainless steel
Steel reinforced cable with high tensile strength
Diaphragms from ceramic or 316L steel
2-wire 4 - 20 mA passive signal system
The design without sharp edges prevent particles, textiles and paper from sticking to the housing or the diaphragm
Measuring ranges from 0 - 0,3 m to 0 - 300 m
Applications
Wastewater wells and tanks
Water reservoirs
Water borings
Harbours, lakes, and rivers
Chemical storage tanks
Process tanks
Open channel flow measurements
---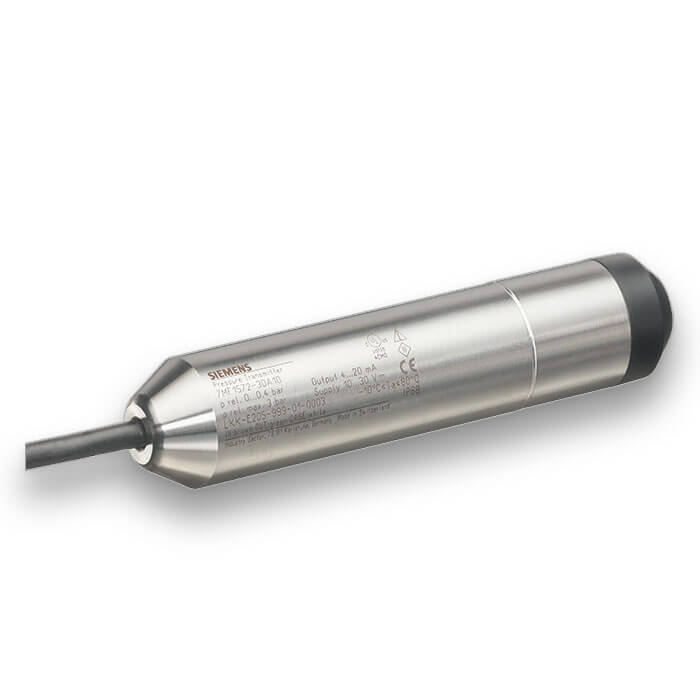 The pressure transmitter SITRANS LH100 is a submersible sensor for hydrostatic level measurement.
The pressure transmitter measures the liquid levels in tanks, containers, channels and dams and is therefore mainly used in drinking and waste water applications.
The SITRANS LH100 is available for various measuring ranges and comes with an explosion protection option.
A junction box and a cable hanger are available as accessories for simple installation.
Benefits

Mounting possible in pipes with 1" inside diameter
Immune to harsh environmental conditions
Easy and safe installation also without junction box (optional)
Universally applicable in harsh environment
Precise measurement of level
Applicable also in drinking water facilities
Applicable also in hazardous areas

Features
Compact dimensions, Ø 23,4 mm
Piezo-resistive ceramic sensor (Al2O3 96%)
Humidity filter integrated in connecting cable
Housing made of stainless steel 316L
Connecting cable made of PE
Protective cap made of PPE
Non-linearity 0,3% typical
Approved by WRAS and ACS (applied for)
Explosion protection acc. ATEX and IECEx