Partially Full Pipes Products
We offer a range of Partially Full Pipe Products,
This range includes;
Partially Full Pipe Product Range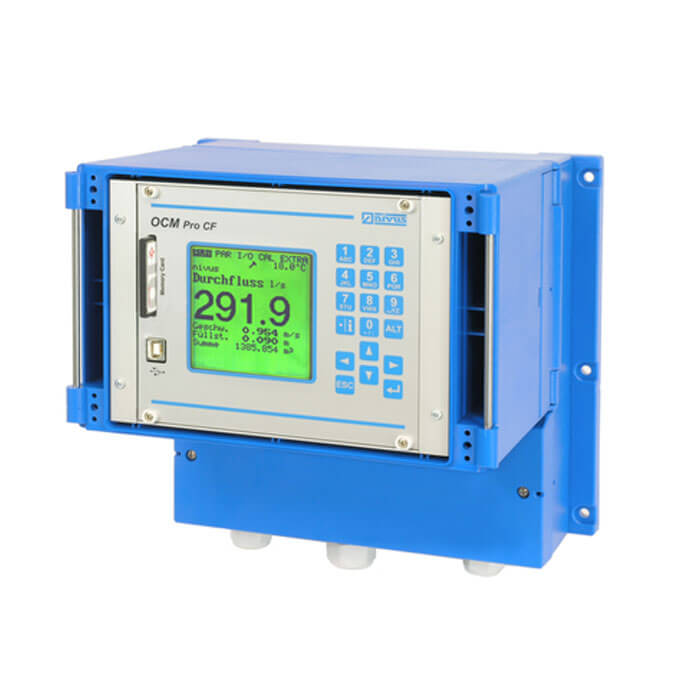 High accurate for slight to heavily polluted media
For ultrasonic flow measurements in slight to heavily polluted media in part filled and full pipes and channels. Best possible results even under difficult conditions
Benefits

Very high measurement accuracy
Absolutely stable zero point and drift-free
No electrodes, no conductivity required
Measurement in all channels, part filled and full pipes as well as flumes
Measurement even in heavily polluted and abrasive media (e.g. return sludge and digested sludge)
No calibration required
Suitable even for very difficult applications
Easy installation without additional constructions
Ideal for retrofitting in existing applications
Measures and indicates the real flow velocity profiles
Spatial allocation of measured single velocities through cross correlation with digital pattern detection
Ex approval Zone 1 according to ATEX
Very easy, multilingual setting of parameters in dialog mode
Large, back-lit graphic display
Storage of all measurement data on Compact Flash Card
Integrated Modbus TCP
Worldwide TCP/IP communication online connection/data transmission and remote maintenance via Internet

Exact flow measurement
NIVUS flow measurement systems stand for innovation and highest accuracy. The OCM Pro CF, proven a thousand times, is a permanent measurement system for continuous flow measurement , flow control and storage of recorded flow data within the range of slight to heavily polluted media of various consistencies. The system can be used as initial equipment or retrofitting in part filled and full flumes, channels and pipes featuring various shapes and dimensions. OCM Pro CF provides fast processors for signal processing, Modbus TCP as well as online connection via Internet.
For flow velocity measurement starting at flow levels as low as 3 cm up to several meters there is a wide selection of sensors available.
On site from anywhere
The OCM Pro CF features innovative communication options for remote maintenance, remote diagnostics and data transmission. Thanks to these options modern measurement systems can be networked all over the world. The unit provides a dedicated webpage via TCP/IP using the integrated web server. In addition to the connection to the worldwide Internet, the unit can be used within internal networks as well.
---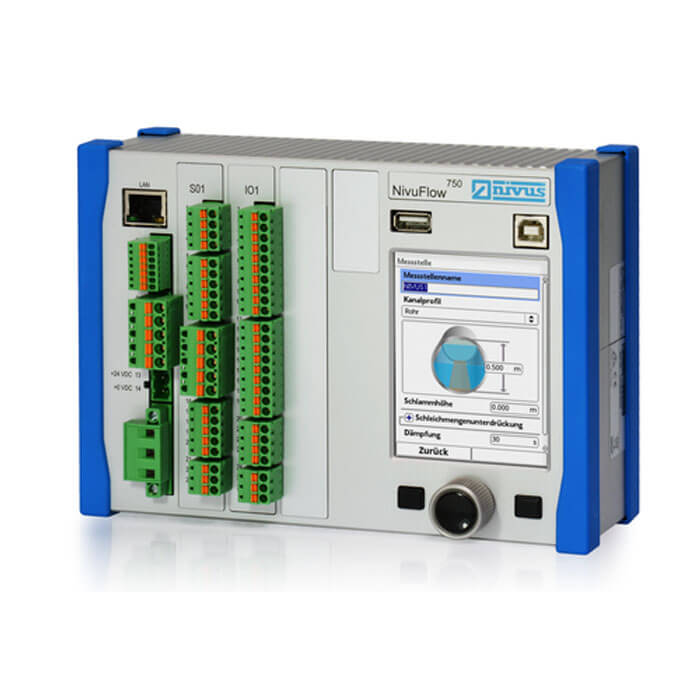 High accurate with intuitive operation
For ultrasonic flow measurement of slight to heavily polluted media in part filled and full pipes and channels. Best possible results even under difficult conditions.
Benefits

Very high accuracy flow meter
Up to 3 measurement spots as well as up to 9 flow sensors (Version M9)
Real-time indication of real flow velocity profiles
Suitable even for very demanding applications
Intuitive, modern operating concept for quick and easy commissioning
Large colour graphic display
Integrated numeric flow models
Ultrasonic flow measurement in all channels, part filled and full pipes as well as flumes
No calibration required
Comprehensive diagnostic functions for reliable commissioning and quick maintenance
Spatial allocation of measured single velocities
Compact DIN rail flow meter for narrow switching cabinets
Field enclosure with large terminal housing for comfortable installation on site
Quick wiring thanks to front-side access
Universal standardised interfaces for easy connection

Flow metering at the highest technical level
The NivuFlow 750 flow meter is the successor to the well-known OCM Pro CF. Compact dimensions of the flowmeter allow DIN-rail installation and installation in switching cabinets even under confined space conditions and in narrow housings.
Combined front-side cage spring terminal clamps ensure quick and easy wiring as well as quick and easy transmitter exchange without tools.
The modern, intuitive one-hand operation using the rotary pushbutton in context with the high-resolution, easy-to-read graphic colour daylight display allows very quick and easy, cost-efficient commissioning on site. No extra input devices or software components are required.
The latest integrated discharge allow even more accurate and more stable investigation of flow rates at high operational reliability even under very difficult measurement conditions. Based on the ultrasonic correlation method, individual velocities are detected in different levels of the flow section. A real 3D flow profile is calculated in real time and is indicated in a reproducible and verifiable manner on the flow meter diaplay. Influencing factors such as flume shape, discharge behaviour and wall roughness are taken into account and are considered while computing the flow.
The NivuFlow 750 offers control function as well. i.e. for flow control in storm water basins or storm water retention basins as well as in sewers with storage capacity and overflow.
The NivuFlow 750 flow meter features quickest possible signal processing, Modbus TCP/RTU as well as online connection via Internet.
For flow velocity measurement starting at flow levels as low as 3 cm through several meters in flumes and channels with various shapes and dimensions, there is a wide variety of sensors tailored to your application available.
On site from anywhere
NivuFlow750 flow meter provides options for remote maintenance, remote diagnostics and for flexible integration into process control systems and telecontrol networks. Thanks to the integrated web server NivuFlow 750 there is an own web site available via TCP/IP. This allows to connect the unit to the worldwide Internet as well as to internal networks.
Typical applications

WWTPs
Channel networks
Discharge structures
Industrial wastewater networks
Discharge
Drainage lines
Return sludge lines
Recirculation lines
and many more
---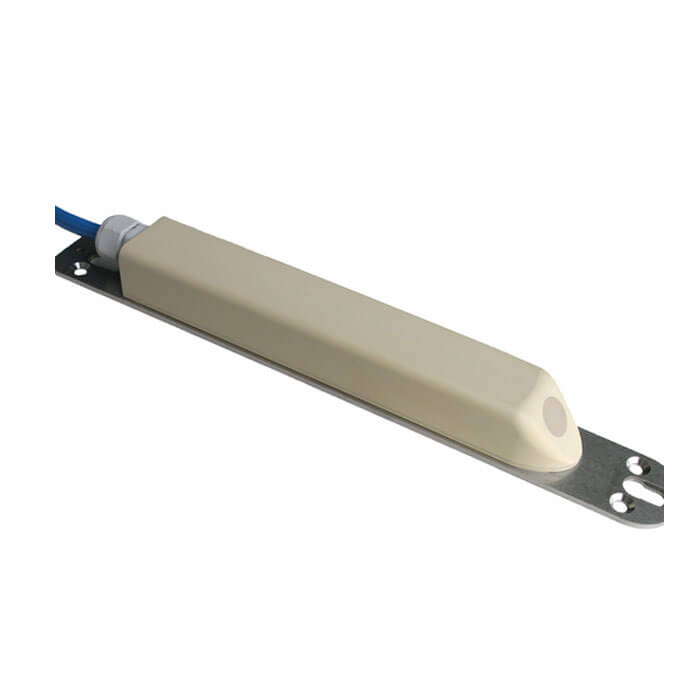 Medium measurement range for levels up to ca. 1m
Ultrasonic sensors for flow measurement with very high accuracy in slight to heavily polluted media. For installation on channel wall or channel bottom
Benefits

For high-accurate flow measurement
Interference-free connection over long distances through digital signal transmission
Cables can be extended without any problems using standard cables
Absolutely stable zero point and drift-free
Measurement in heavily polluted and abrasive media
Easy installation without additional constructions and perfectly matched mounting accessories
Installation under process conditions possible
Suitable for all channel cross sections
The tailored selection of sensor constructions ensures the best possible solution for each application

POA flow velocity sensors are suitable for continuous measurement of slight to heavily polluted media. The wedge-shaped sensors are designed for installation on either the channel wall or the channel bottom. Combined with transmitter types such as NivuFlow 750 and an external level measurement the result is a complete flow measurement system.
Typical applications for POA wedge sensors
Wastewater treatment plants: intake, discharge, activated sludge tank intakes, return sludge, recirculation, surplus sludge, digester discharge and flocculant dosage
Permanent measurements on stormwater treatment facilities such as stormwater overflow tanks, rainwater sedimentation and retention tanks
Direct discharge control, infiltration (extraneous water) or leakage detection
Industrial wastewater networks
Measurement campaigns in channel networks
and many more